See Also:
More Information
FP Specifications Archives
The following archived versions of the Standard Specifications for the Construction of Roads and Bridges on Federal Highway Projects (FP) are available for download. Note that the FP-14 is the current version.
FP-14

The FP-14 was published in 2014 replacing the FP-03. It is the current version of the FP.
View the FP-14 (Acrobat, 3.99 MB)
FP-03
The FP-03 was published in 2003 replacing the FP-96. It was published in Metric and US Customary versions. The FP-03 is used on some current projects.
View the FP-03, US Customary Units (Acrobat, 2.78 MB)
View the FP-03, Metric Units (Acrobat, 2.65 MB)
FP-96
The FP-96 was published in 1996 and replaced the FP-92. It was the first FP to be published in Metric units. In 2001 the English Units version was published. This version was superceded by the FP-03.
View the FP-96, Metric Units (Acrobat, 2.02 MB)
View the FP-96, English Units (Acrobat, 2.62 MB)
Earlier Versions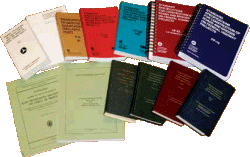 FP-61
FP-41 - the first one officially called "FP".
FP-35 - known as the FR-50-1935
FP-17

(Acrobat, 2.9 MB)

- the earliest ancestor of the "FP" published in 1917.